Swaffham Prior Village Website
Swaffham Prior is a village of just over 300 houses in South East Cambridgeshire, about 5 miles west of Newmarket (Suffolk) and 10 miles North East of Cambridge (map). Burwell, Reach and Swaffham Bulbeck are its immediately neighbouring villages. Swaffham Prior used to be known as Great Swaffham; Swaffham Prior and Swaffham Bulbeck together are often known as 'The Swaffhams' (not to be confused with the town of Swaffham in Norfolk).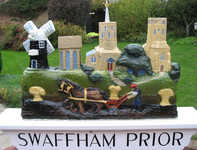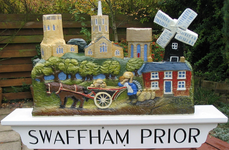 Swaffham Prior is perhaps best known for its two churches (St Mary's and Saints Cyriac and Julitta's) in the same churchyard; shown above on the village sign along with the working windmill and other village landmarks. Just down the road, about half way to Burwell, is the Devil's Dyke; an ancient earthwork.
The village is situated on the edge between Newmarket Heath (chalk) and the Fen.
Other Information
---
James Matheson (jmrm at swaffham-crier.co.uk)