Swaffham Prior Festival 2007
---
Download Festival Leaflet or Full Programme
---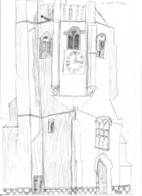 Every four years or so, Swaffham Prior holds a Festival to celebrate the talent of our very own Village People – with a little help of some friends. This year's Festival will last for ten days raising money for Charity! There is something for everyone. Families will be most welcome at all the events.
The Festival will start on Friday 22nd June with music by the Combertones Dixieland Jazz Band welcoming you to a wonderful Art Exhibition & Art Auction in St Cyriac's Church. This Redundant Churches Trust building is famous for sharing its churchyard with St Mary's Church and for its renowned acoustics.
On Saturday, we can all share in the Children's Music Concert. Children's Artwork will be also be Exhibited and Auctioned, with Cream Teas in the Village Hall. A Quiet Room for people just wanting to relax will be provided – hand, foot or even Indian Head Massage to rejuvenate you. In addition, we have a celebration of the 100th Year of the Boy Scouts movement. A real collection of vibrant Market Stalls will be open, including Make-up, Clothing and Food amongst other things, and loads of fun filled activities! Swaffham Prior Primary School will be producing the colourful and imaginative show "If the World were a Village" including their very own Choir. The evening finishes off in the Village Hall with the talented Bluegrass group Coup de Grass and the Cage Hill Hillbillies – lots of music and fun including a Bar.
On Sunday, come for a guided walk through the village and enjoy Cream Teas. You will discover The Old Forge, The Windmill, the Cage & Pound and the fragrance of beautiful flowers that will be decorating St Mary's for the whole weekend. In the evening, join the Rev. David Lewis for Songs of Praise and sing your favourite hymns.
During the week, there is something every night – Art in Action, Tap Dancing, The Good Old Days with Black & White Photos & Films of the villages, WOW, the critically acclaimed group Note for a Child, The Lighter Side of Village Life – a Comedy. On Saturday, the Summer Fair at Swaffham Prior Primary School will be filled with merriment. That evening, Ian de Massini will be directing Cambridge Voices & the Orchestra of the Age of Reason with "Handel's Messiah" and the following evening "Arrangements with Bach" Piano Recital, also with Ian de Massini. The Big Raffle Winners will be announced at the close of our Festival. Do find time for yourself, family and friends to come and enjoy Village Life as it used to be and still is – today….
By Tina Jost